I got my invitation this morning and just got the chance to join and start contributing. My name is Johnna, I'm from Sunny California, married with 2 dogs and a cat... I like to say I have 4 kids (the pets and the husband). I first knit the XL Cables on pockets from the kit after nicely begging Sharon for a while. I was scared to death of the felting process and even though I may have made a boo boo in felting it, there's a first time for everything, it's one of my favorite things ever. Here you can see it before I took the plunge and threw it in the washer.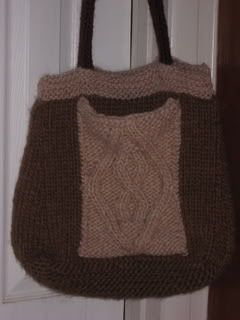 And after enjoying some sunshine (and full of my stuff!)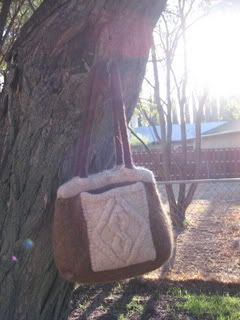 I've secretly been working on the pipes and braids bag as well, and I hope Sharon doesn't mind me sharing my identity, and the pictures of the bag being worked on while on a trip to San Diego recently.
Yes I got caught knitting away and enjoying the ocean sounds.
And just for kicks here's a picture of how far I was first thing in the morning before leaving in the afternoon. Needless to say I'm almost finished and hoping to have it in my mom's hot little hands before Friday.
All I can say is these bags are amazing. Super fun and quick to knit...plus who doesn't like compliments? I get them all the time on the cables on pockets bag. Everyone loves it.